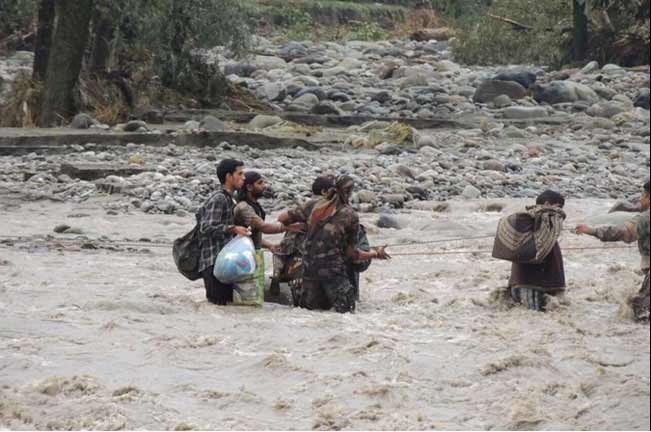 Srinagar: Floods ravaged Kashmir Valley on Monday following incessant rainfall over the past four days.
Anxious people began to leave for safer places as authorities kept a watch on swollen mountain streams and the Jhelum river which was in spate. People feared a repeat of September 2014 when floods had left a trail of destruction and death in the state.
According to police, two houses sink into ground at Chadoora area in Budgam district of Kashmir, 16 people feared trapped. Prime Minister deputed Minister Mukhtar Abbas Naqvi to Kashmir for assessment of flood situation.
"Flood level was 22.8 feet (status red) at Sangam (Anantnag), 19 feet (status red) at Ram Munshi Bagh (Srinagar) and 11.55 feet (status green) at Ashim (Bandipora) today (Monday) morning.""All officials connected directly and indirectly with flood control operation have been ordered to report for duty and remain available at their places of posting," a top divisional administration official."People living along the banks of Jhelum are advised to exercise extreme caution. Moving to safer places from vulnerable areas is advised," he added.
People living in flood-prone areas of Srinagar city, especially those in Rajbagh, Jawahar Nagar, Gogjibagh, Wazir Bagh and some other places have already started migrating to safer places since Sunday evening. Many shopkeepers in the Residency Road and Lal Chowk commercial hub of the city were seen shifting merchandise to safer places, engaging load carriers for the purpose. These areas had been the worst hit during the unprecedented floods last September.
Over 80 public and private properties suffered partial or total damage because of incessant rains during the last two days in the Valley. The strategic Jammu-Srinagar highway has also been closed since Saturday. Authorities in Jammu said the highway would remain closed today (Monday) as well